The Dr Pepper Company was officially incorporated under Colorado laws on July 6, 1923, in Dallas. The company markets fountain syrups and sells soft-drink concentrates to independent franchised bottlers. These licensed bottlers then add sweeteners and carbonated water, package the result, and sell the finished product in the surrounding market. In the mid-1980s Dr Pepper's products were Dr Pepper, Sugar Free Dr Pepper, Sugar Free Pepper Free, Pepper Free, and Welch's soda flavors. Dr Pepper, with a 6.9 percent market share, was the nation's fourth largest soft drink company in 1983.

Dr Pepper was first made in Waco, Texas, in 1885. Wade B. Morrison, owner of Morrison's Old Corner Drug, employed a pharmacist named Charles Courtice Alderton, who, when not filling prescriptions, often served soft drinks to customers. Alderton enjoyed experimenting with various combinations of fruit extracts and sweeteners. One combination, later to become Dr Pepper, proved enormously popular with drugstore patrons. As the popularity of the beverage grew, the residents of Waco urged Morrison to name the drink. Morrison named the beverage after Dr. Charles T. Pepper, a physician and pharmacist for whom Morrison had worked in Rural Retreat, Virginia. The trademark employed a period after Dr until 1950.

As the consumption of Dr Pepper increased, Morrison's drugstore could no longer produce a sufficient quantity of the beverage. In an effort to satisfy the demand, Morrison, along with Waco beverage chemist Robert S. Lazenby, started the Artesian Manufacturing and Bottling Works in 1891. On September 8, 1898, the Southwestern Soda Fountain Company of Dallas purchased the rights to produce and sell Dr Pepper fountain syrups. On September 25, 1902, Southwestern Soda Fountain changed its name to Dr Pepper Company. Circle "A" Corporation, which purchased Artesian Manufacturing and Bottling Works in 1920, was the only bottler of Dr Pepper concentrate. On June 12, 1923, because of rising commodity prices and high bottling taxes, Circle "A" Corporation went bankrupt.

On July 6, 1923, in Dallas, the remnants of the old Dr Pepper Company and Circle "A" Corporation officially incorporated as the Dr Pepper Company. Lazenby's son-in-law, John B. O'Hara, was named general manager of the firm. In these early years, the struggling firm developed a small but loyal following in the South and Southwest.

An important 1963 district court ruling enabled Dr Pepper to expand when the United States Fifth District Court of Dallas declared that Dr Pepper was not a cola. This ruling allowed independent bottlers to carry Dr Pepper along with Pepsi-Cola or Coca-Cola, since bottlers could now carry Dr Pepper without violating their franchise contracts, which state that bottlers are not permitted to bottle competing brands. Through close personal contacts and cooperative promotional efforts, Dr Pepper aggressively courted independent bottlers. From 1968 to 1977, under the guidance of Chief Executive Officer Woodrow Wilson Clements, sales increased from $41.9 million to $226.8 million. In the same period net earnings jumped from $4.1 million to $20.3 million.

As the 1970s drew to a close, however, Dr Pepper's fortunes declined. First, the company incurred tremendous debts in its acquisition of bottling plants and purchase of Canada Dry in 1982. Second, as market growth leveled off, the soft drink industry became increasingly competitive. As much larger Coca-Cola, PepsiCo, and Seven-Up (the last owned by Phillip Morris) increased advertising expenditures, debt-ridden Dr Pepper struggled to hold its own. From 1980 to 1983 the Dr Pepper brand's market share declined from 5.5 percent to 4.9 percent. Third, the rapid brand proliferation, begun in 1982 by Seven-Up with Like Cola, pushed Dr Pepper off the grocer's shelves. Fourth, in an effort to meet other soft drink companies' advertising efforts, under President Chuck Jarvie Dr Pepper concentrated primarily on nationwide advertising and ignored independent bottlers' needs. Independent bottlers thus no longer pushed Dr Pepper with the same zeal. Though sales increased from $370.6 million in 1981 to $516 million in 1982, the increase was largely attributable to the purchase of Canada Dry. In 1982 earnings declined to $12.5 million, down from $29.9 million in 1981. The company reported earnings of $21.6 million in 1983, still below the 1981 figure. In late 1983 Dr Pepper began a search for a buyer, preferably a large conglomerate, to increase its competitiveness in the soft drink industry.

Because of the highly competitive nature of that industry and Dr Pepper's poor cash position, few companies showed interest in the firm. In late 1983 Forstmann and Little, a New York investment-banking firm, offered twenty-two dollars a share for Dr Pepper. This deal, using primarily borrowed funds, involved buying out existing shareholders, refinancing Dr Pepper's debt, and retaining the company's top management. At about the same time, another suitor entered the picture. Castle and Cooke, a large food producer based in Honolulu, wanted Dr Pepper. With Dr Pepper, Castle and Cooke would be able partially to offset volatile earnings swings caused by fluctuating commodity prices. Unable to obtain sufficient financial information from Dr Pepper, however, Castle and Cooke's investment group withdrew its offer of twenty-four dollars a share. On February 28, 1984, Dr Pepper shareholders accepted the Forstmann and Little offer, and the company went private.

Since the buyout, the company has sold a majority of its fixed assets. Canada Dry was sold for about $175 million to R. J. Reynolds Industries, Incorporated, in 1984. All ten company-owned bottling plants have also been sold. In 1984 the Dr Pepper brand slipped from fourth to fifth in soft drink popularity, while maintaining an approximate 5 percent share of the market. By 1985, however, it had climbed to the number three position in the market, moving ahead of Seven-Up. Dr Pepper closed out its centennial year in 1985 with a 7½ percent share of the market as the third largest soft drink. It was the biggest sales year in the company's 100-year history.

In 1986 Dr Pepper merged with the Seven-Up Company and soon thereafter moved its manufacturing operations to facilities in St. Louis, although the company's corporate headquarters remained in Dallas. In 1992 Dr Pepper/Seven-Up Companies, Inc., was the soft drink industry's third largest marketer, with a domestic market share of 11.1 percent. Its products included Dr Pepper, Diet Dr Pepper, 7UP, Diet 7UP, Cherry 7UP, Diet Cherry 7UP, Welch's, and IBC soft drinks. The company's net sales totaled more than $658 million in 1992. A collection of Dr Pepper memorabilia formed the core of the Dr Pepper Museum and Free Enterprise Institute, which opened in Waco in 1991.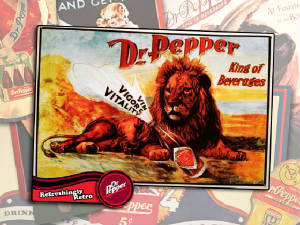 The Dr Pepper Company is the oldest manufacturer of soft drinks in the United States. Dr Pepper soda pop was first made and sold in 1885 at W.B. Morrison's drug store in the central Texas town of Waco. Morrison had moved to Texas from Virginia, having worked as a pharmacist in a drug store in Rural Retreat owned by Dr. Charles Pepper. Charles T. Pepper was an 1855 graduate of the University of Virginia Medical School and is known to have practiced medicine at his pharmacy in Rural Retreat.
Charles Alderton, a young English pharmacist working at Morrison's store in Waco, also served carbonated drinks at the soda fountain. The Dr Pepper flavor was developed by Alderton. Dr Pepper is most likely named after Charles Pepper, Morrison's former employer. Pepper's name was probably choosen to bolster the image of the drink which was being sold as a brain tonic and energizing drink.
Alderton appears to have terminated his connection with the manufacture of Dr Pepper at an early stage.
Morrison began to mass produce Dr Pepper together with Robert S. Lazenby who was proprietor of The Circle "A" Ginger Ale Company in Waco. Morrison and Lazenby produced the flavouring syrup in Lazenby's bottling plant, a small frame building on Bridge Street in Waco. Ever-increasing sales required that they move to larger premises in 1886 and again in 1887. Rapid growth led to the construction of their own 3-story brick building with basement. Completed in 1889, the 'Home of Dr Pepper' became a landmark in downtown Waco. This architectural monolith was constructed from solid brick walls 18" thick and massive timber underpinnings, finished off with a tile grooved roof. This building is still standing.
In 1904, Lazenby and his son-in-law, J.B. O'Hara, introduced Dr Pepper to almost 20 million people attending the 1904 World's Fair Exposition in St. Louis. The exposition was the setting for more than one major product debut. Hamburgers and hot dogs were first served on buns at the exposition, and the ice cream cone was introduced. Dr Pepper president Robert Lazenby, designed an exposition watch with the fair's emblem on one side and the words "The Home of Dr Pepper, Waco, Texas," on the other. Ceramic urns used as syrup containers at the fair were labeled "Dr Pepper Phos-Ferrates".
An early advertising slogan for Dr Pepper was "Liquid Sunshine." Others were "If Atlas were on earth, he would recommend Dr Pepper," and "It leaves a pleasant farewell and a gracious call back."
Dr Pepper long viewed itself as being a company centered around health and fitness. Continuing in this direction it bought the Freckleater Company in 1906. This company manufactured an ointment for removing freckles from the skin. This business was soon sold back to its original owner for the same price it was purchased.
On April 10, 1911 Dr Pepper threw a Prosperity Banquet for over 2,000 guests on the streets of downtown Waco. The celebration organized in conjunction with The Young Men's Business League of Waco marked the outstanding progress of the city of Waco. The banquet included full table service, a complimentary bottle of Dr Pepper for each patron and even a viewing gallery where uninvited guests could observe the festivities.
Morrison and Lazenby formed a new firm, the Artesian Mfg. & Bottling Company, which later was renamed the Dr Pepper Company. Lazenby and O'Hara moved the company from Waco to Dallas in 1923.
From 1910 to 1914, Dr Pepper was identified with the slogan, "King of Beverages." "Old Doc," a typical country doctor character with monocle and top hat, became the Dr Pepper trademark character in the 1920s and 1930s. In 1927, J.B. O'Hara asked Dr. Walter H. Eddy, Professor of Physiological Chemistry at Columbia University in New York and an authority on nutrition and vitamins, to conduct a study on daily human fatigue. Eddy concluded that the average person experiences a letdown during the normal day at 10:30a.m., 2:30p.m. and 4:30p.m. That was the origin of the advertising slogan, "Drink a bite to eat at 10, 2, and 4" which served as the Dr Pepper slogan for many years.
When Dr Pepper was first introduced, the product contained no caffeine or cocaine. Though both substances were legal at the time, some researchers considered them dangerous. In 1917, Robert Lazenby reconsidered when he learned that caffeine had the tonic and energizing effects that he had long associated with the drink. Caffeine was added from 1917 until 1939, when the caffeine was removed and vitamin B-1 was added. The vitamin caused the product to spoil easily and changed the taste. Soon afterwards the vitamin was removed and caffeine reincluded.
Early gallonage books at the Dr Pepper Company reveal that the first Dr Pepper franchise granted to anyone in Pennsylvania was made to M. E. D. Abel of Uniontown in 1938. Abel was an aviation enthusiast, who owned his own plane and had a private pilot's license. He also owned businesses including coal and wholesaling. All the other Pennsylvania Dr Pepper bottlers were established after WWII, beginning in 1946, 1947 and 1948.
Dr Pepper is, even today in 2007, a major manufacturer of soft drinks.